About Paan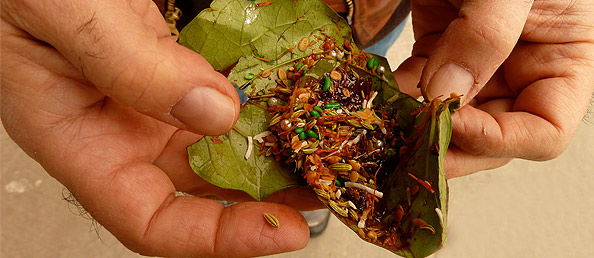 Paan is a South Asian treat usually served at the end of a meal and at certain ceremonies such as weddings, receptions, mendhi parties, and sangeets.  Paan can be bought in nearly every street corner in India.

Paan consists of a betel leaf wrapped in a triangular shape with a mixture of spices, mukhwas, dried fruits, and sugar.
Preparation
A simple paan can be prepared the following way:
Wash a fresh betel leaf is and dry with a cloth
Prepare a mixture of spices with:

Cardamom

Anise

Cloves

Shredded coconut

Supari (betel nuts)

Sugar coated fennel seeds

Add a small amout of the mixture on top of the betel leaf.

Fold the leaf into a triagular shape and present to guests.
The ingredients of the paan mixture vary by region and by individual tastes.