Also Check Our Services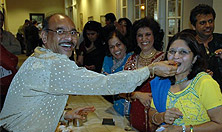 We make fresh paan at our store in Diamond Bar. In addition, we can prepare paan, to your specifications and have them ready for pick-up, for any of your events. We can also come to your event and prepare paan for your guests.
We can accomodate orders from 1 paan to over 1000.
More Info
Customer Testimonial

"I have told everyone about your fresh paan and how great it was... I hope to some day have some again soon. I hope this email finds you well... Thank you for sharing your customs with me... I'll never forget!" - 11/26/2007